Posted by admin in R4i SDHC 3DS Tutorials | Comments Off on Tutorial: How to use R4i sdhc 3ds card to play Pokemon White/Black 2(US)
Tutorial: How to use R4i sdhc 3ds card to play Pokemon White/Black 2(US)
23,410

views
These days i found some guys have the problem of playing the Pokemon White/Black 2(US) with the r4i sdhc 3ds card,  some have the Load ROM Error code=5 problem, some get white screen freezing, today i spent some time to test my r4i sdhc 3ds card with my 2g and 8g sd card, both are working great with Pokemon black 2 and Pokemon white 2 clean roms, so if you have problem about it, just follow the guide below.
Step1   The  R4i sdch 3ds i am using is the one from r4i-sdhc.com.  check here:  Buy R4i SDHC 3DS Flashcart For your 3DS XL  DS DSi  3DS
Step2   Get a sd card, any size will be fine, i have tested both  2g and 8g, all working great, so i thought sd card size is not a problem. Back up the files from the sd card to your pc, format your sd card.  Many guys suggest formatting the sd card with a prefessional tool such as the sd formatter, i didn't use any of the tool,  because i found it would take me more than one hours to format and OverWrite my 8G sd card, so i just do a easy format.  it is working for me, you can choose do the format with the tool anyway.
Step3  Download the latest r4i sdhc 3ds kernel V1.62b from the official site r4i-sdhc.com, extract it, and put all the files in the root of your sd card.    check the pic below, copy those four to the root of your sd card.
Step4:  Download the RetroGameFan Multi Cart Update v6.88     extract it and find R4i-SDHC YSMenu folder
Click the R4i-SDHC YSMenu folder, you will see

Step5  Copy the "Games" folder,  "TTMenu",  folder, "TTMenu.dat" and "TTMenu.nds" file into the root of your sd card.
Step6  Go back to the RetroGameFan Multi Cart Update v6.88, find usrcheat.dat file, and copy it to the TTMenu Folder
Step7   Then put the Pokemon White 2(US) and Pokemon Black 2(US) clean games in the sd card, in the end you will see those files in the sd card

ok, everything is fine now, just put the sd card and your r4i sdhc 3ds card into your 3DS XL/3DS/DSi/DS console.
Notice: pls follow the steps below step by step, do not click wrong. if you do not follow the order, you woluld get all different errors.
turn on the console.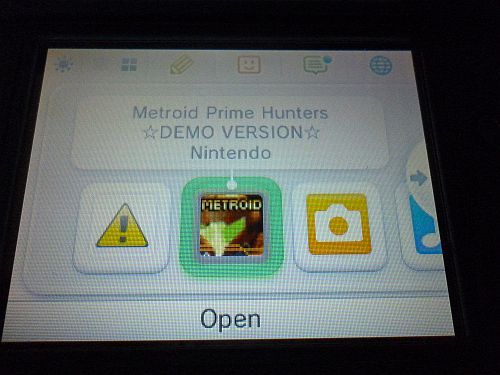 Click the icon and access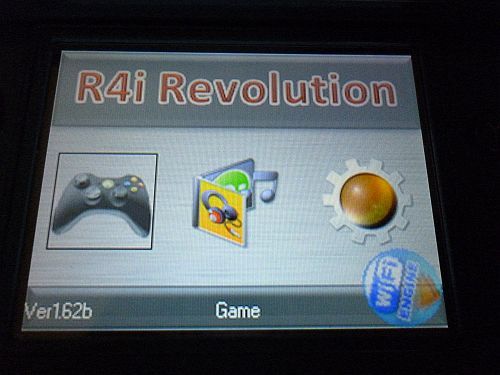 Click the first left one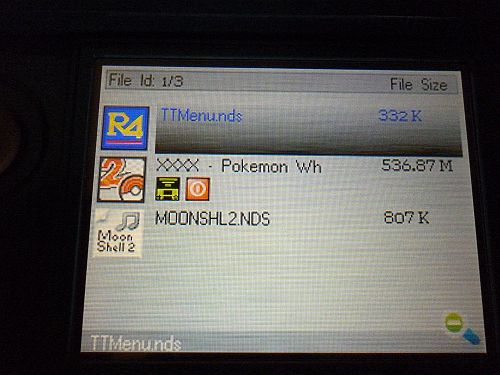 Click TTmenu.nds
Click the  game Pokemon White 2(US) and start playing
Ok, that's i have also tested the 8g sd card, Pokemon Black 2(US), no problem at all.
As always, if you want to buy r4i sdhc 3ds card for your console, please go to our online store, if you have any questions about it, please use the contact form to message us.